I Can Help You Seek Success
Through Careful Planning, Persistence, & Personalized Service
SPEAK WITH ME TODAY
What To Expect During A Case Management Conference?
May 1, 2023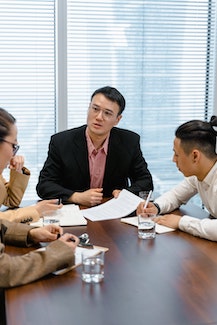 The landlord-tenant case management conference in New Jersey is designed to resolve disputes between landlords and tenants without a trial in court. This mediation program is mandatory in Hudson County. Case management conferences are held by trained clerks or mediators who are court-approved and certified. The program is free.
During the conference session, both parties can discuss their concerns and negotiate a resolution. If an agreement is reached, it is put in writing and signed by both parties, and the case is closed. If an agreement is not reached, the case may proceed to trial. It is important to note that attendance at the mediation session is mandatory for both parties.
In non-eviction civil matters, Rule 4:5 B-2 outlines case management conferences for cases assigned to Tracks I, II, and III, where a case management conference is held if it appears it will assist discovery, narrow or define issues, address issues relating to discovery of electronically stored information, or promote the orderly and expeditious progress of the case.
In Track IV cases, initial case management conferences must be conducted soon after joinder and within 60 days thereafter. Rule 4:5 B-4 mandates the court to hold a case management conference within 90 days of the filing of the first answer in all professional malpractice cases to address discovery-related issues, and a case management order is established to memorialize the conference. The parties must attend the conference and comply with the orders issued by the court.
Remote mediation is being conducted in the Superior Court due to the COVID-19 pandemic and backlog, and it is important to check with the court to see if the session will be remote or in-person.