I Can Help You Seek Success
Through Careful Planning, Persistence, & Personalized Service
SPEAK WITH ME TODAY
Estate Planning Checklist: What To Consider Before Planning Your Estate
Nov. 3, 2022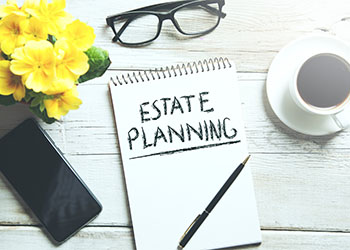 Planning your estate in New Jersey requires careful thought and consideration. I encourage my clients to take estate planning slowly and seriously. By being careful, you can avoid critical mistakes that might complicate things for your loved ones.
Working with my firm, you'll experience the best guidance, and I will walk you through a thorough estate planning checklist you can use to write your estate plan. My firm serves those in Union City, New Jersey, and the surrounding areas of Jersey City, Bayonne, Hoboken, and North Bergen.
What Should You Consider Before You Start Your Estate Plan?
You should make informed decisions while creating your estate plan. Some of the considerations I discuss with my clients before drafting an estate plan in New Jersey include the following:
Set Clear Goals
The first thing to consider is what you want to achieve with your estate plan. Think about who your beneficiaries will be and how you want your assets to be distributed. Most importantly, focus on protecting your loved ones above anything else.
Get Your Assets in Order
Next, make a careful inventory of your assets. These include properties, cash, investments, vehicles, collectibles, and household items. This list will come in handy when drafting your will.
Identify Your Liabilities
Like assets, it's crucial to list your liabilities. Liabilities include outstanding mortgages, credit card debt, personal loans, and vehicle liens. Please remember that your estate will need to cover your liabilities before transferring assets to your beneficiaries.
Determine Your Beneficiaries
In essence, your beneficiaries are the people you want to transfer ownership of your assets. Beneficiaries can be anyone you choose. So, it's important to include everyone you wish to protect once you've passed.
Determine Your Executor
The executor is the person who will be responsible for your assets until your estate has been officially transferred to your beneficiaries. You may choose a family member or a third-party, such as a trusted estate attorney. Many of my clients choose an estate attorney as an impartial third party in order to avoid conflict between beneficiaries and non-beneficiaries.
Determine Who Can Make Healthcare or Life/Death Decisions
It's vital that you determine who can make decisions if you are incapacitated, to be your power of attorney. You can name anyone, not just family members. If you fail to name someone to make decisions for you, your next of kin (i.e., spouse or children) will make such decisions on your behalf.
Establish Your Funeral Arrangement
Part of estate planning includes funeral arrangements. You can carefully craft your funeral plan to include the precise instructions you want to be carried out upon your passing.
Identify Those Who Need Protection
Your estate plan must consider loved ones who need protection, such as elderly parents, siblings, pets, or dependent children. For instance, your estate can transfer funds into a trust to pay for your children's education or long-term care for disabled siblings.
Consider Charitable Donations
Plenty of my clients allocate a portion of their estate toward charitable causes. If you're inclined to do so, naming charitable organizations in your estate plan is a must.
Consider a Business Succession Plan
You need to establish a business succession plan if you're a business owner. This plan includes the distribution of your shares as well as management duties. For instance, you can name your spouse or children to your seat on the board. Also, you can arrange for a third-party administrator to run your business while your family members become acquainted with your business dealings.
Prepare for Tomorrow by Calling Today
I have helped countless folks in Union City, New Jersey and neighboring areas – including Jersey City, Bayonne, Hoboken, and North Bergen – plan their estate throughout my career. My pledge is to provide my best effort in helping plan your estate. Ultimately, only you can make the best plan for your loved ones. So, let me help you figure out the fine print.
If you're ready to prepare for tomorrow, call today. My staff and I are on standby to help you prepare for your future.