I Can Help You Seek Success
Through Careful Planning, Persistence, & Personalized Service
SPEAK WITH ME TODAY
Common Questions When Someone Passes Away
Jan. 12, 2023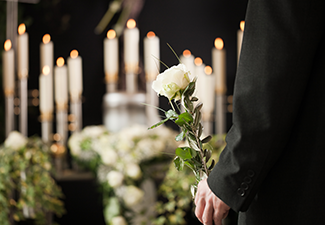 When someone close to us passes away, we never quite know how we'll react emotionally or how long these feelings will affect us. Because of this, it can be hard to keep track of all the things you have to do after a loved one dies. If you'd like help with this process, reach out to us at the Hudson Law Firm to speak with an estate planning attorney. We're located in Union City, New Jersey but help clients in Jersey City, Bayonne, Hoboken, and North Bergen.
What Is the First Thing I Should Do When a Loved One Dies?
One of the most vital steps to take when a loved one dies is to obtain legal pronouncement of death. This should be fairly easy to get from the hospital or hospice center they died at, but if they passed away at home you'll have to request one. You'll need this to complete most of the following steps, including closing accounts and planning a funeral.
Who Do I Need to Notify?
The first group of people that should be notified of the death are family and close friends. This is not always an easy task, and you should feel welcome to ask others to help you. You'll then want to contact the deceased's employer, coworkers, bank, social security office, insurance companies, or organizations they were a part of. After immediate family and friends have been notified, you may also choose to make a general announcement to the public.
What Funeral Arrangements Should be Made?
If the decedent had estate planning documents, they will likely contain details about what kind of funeral arrangements they would like. This could include instructions on what kind (if any) of service they would like and how they'd like their remains to be disposed of. If there is no estate plan, you should consult those closest to the deceased to best decide what they would have liked.
What About Children and Pets?
Of course, any minor children or pets should be taken care of immediately. At first, you need to find a close family member that children can stay with, and this should be someone they know well and are comfortable with. After the will has been read, it should include instructions on who the legal guardian will be, but ideally, this information should have been already communicated to the parties involved.
How Is the Will or Trust Handled?
If the deceased left a will, there will be a named executor who will be in charge of administering the will. Likewise, a trustee will have already been named if there's a trust in place. The executor will work directly with the courts to take the will through the process of probate where they'll be responsible for notifying any creditors, paying off past-due debts, inventorying property, then notifying beneficiaries, and dispersing the assets. If there is no named executor or a will, a judge will name an administrator who will take on this role, and this is typically a family member such as a surviving spouse or adult child. A trust will not have to go through probate, and instead, the trustee can immediately transfer assets over to the assigned beneficiaries.
Do I Need an Attorney?
You aren't required to work with a probate attorney to assist with the administration of a will, but many people find it tremendously helpful. Whether you want to consult with an attorney briefly to ensure you're following all applicable laws or work with one for the entire process, an experienced lawyer can help you through this difficult time so you can focus on your family's needs.
Clear & Compassionate Legal Counsel
If you're in the Union City, New Jersey area and would like help understanding what to do when a loved one dies, call us at the Hudson Law Firm. Our team knows how challenging it can be after a loved one passes. Don't face matters alone. We proudly serve clients in Union City, Jersey City, Bayonne, Hoboken, and North Bergen, New Jersey.