I Can Help You Seek Success
Through Careful Planning, Persistence, & Personalized Service
SPEAK WITH ME TODAY
Carrying A Handgun In New Jersey
Jan. 27, 2023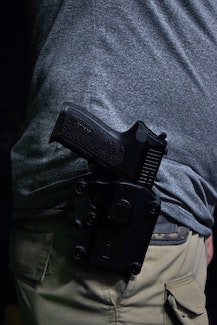 New Jersey generally prohibits the knowing possession of a handgun in any place other than one's own property or place of business without a permit to carry a handgun. To obtain a carry permit, applicants must apply through the New Jersey State Police (NJSP) or local law enforcement, not have a criminal record, have three reputable persons endorse the application, demonstrate that they are not subject to any of the disabilities set forth under state law to obtain a permit to purchase a handgun or a Firearms Purchaser Identification Card, and demonstrate "thorough familiarity" with the safe handling and use of the handgun.
Non-residents of New Jersey who wish to carry a handgun in the state must obtain a permit to carry a handgun from NJSP under the same process as New Jersey residents.
Beginning in 2023, applicants for a permit to carry a handgun must also complete training in the lawful and safe handling and storage of firearms, and also beginning in 2023, every private citizen who carries a handgun in public must maintain a minimum of $300,000 in liability insurance coverage for harm resulting from their firearm carry.